Exploding the Lie that People Hate Ads
"The real fact of the matter is that nobody reads ads. People read what interests them. Sometimes it's an ad."

Howard Luck Gossage
Since it is Advertising Week I thought what better time to debunk a myth that has spread like wild fire through the very media that, well, often spreads myths like wild fire. The big lie being perpetrated on us is that people hate ads. Fueling this is the rise in popularity of ad blockers, or pieces of software installed onto your web browser that will prevent ads from appearing on a web page.
A vocal chorus of haters, and what is the web after all without vocal choruses of haters, are saying that ads are evil and people hate advertising. The truth as I will expose it that people do not hate ads at all.
People hate being annoyed. People hate being interrupted when they are doing things. People hate irrelevance. But people hate those things offline as much as they do online. Those emotions of hate are not specific to ads.
The online experience is one that we control. As the first user controlled media we are always operating our media with intent to do something. When ads get in the way of what we want to do we don't like them. When they meet our needs, help us or interest us we have no problem with advertising. Here's proof;
What we know about people is that they love to feel "in the know." Advertising provides that. Awareness is a key component of advertising. Not sure when the season finale of CSI is? Advertising is there to help. Want to know the style trends for this fall, just open up Vogue and its 615 September ad pages. How else would you know P&G has a brand new product in the cleaning category if not for the first Swiffer commercial?
People love characters. Advertising provides that. Spike Lee took his Mars Blackmon character from a film few people saw to worldwide phenomenon.
Something more current we all know is Flo the Progressive Girl. But did you know Flo has over 5 million likes on Facebook?
And let's not forget Dos Equis "most interesting man in the world." These ads are so well liked they turned into a meme and the spots themselves now have their own website.
People love to laugh and ads provide that. From "Where's the Beef" to "Whassup" to the great cameos of athletes for ESPNs commercials, watching ads can absolutely be an enjoyable, even funny experience and transcend their own medium and become part of popular culture.
As hard as it may be to believe, ads in the Internet have proved time and again to be very popular. Nike's 4-minute ad around the World Cup has over 118M views a year and a half later. Last year's Budweiser spot from the Super Bowl has almost 30M views on YouTube and a like to dislike ratio of 24:1. I did not think Gatorade made sense as an advertiser on Instagram but this ad had over 23,000 likes by the time I saw it.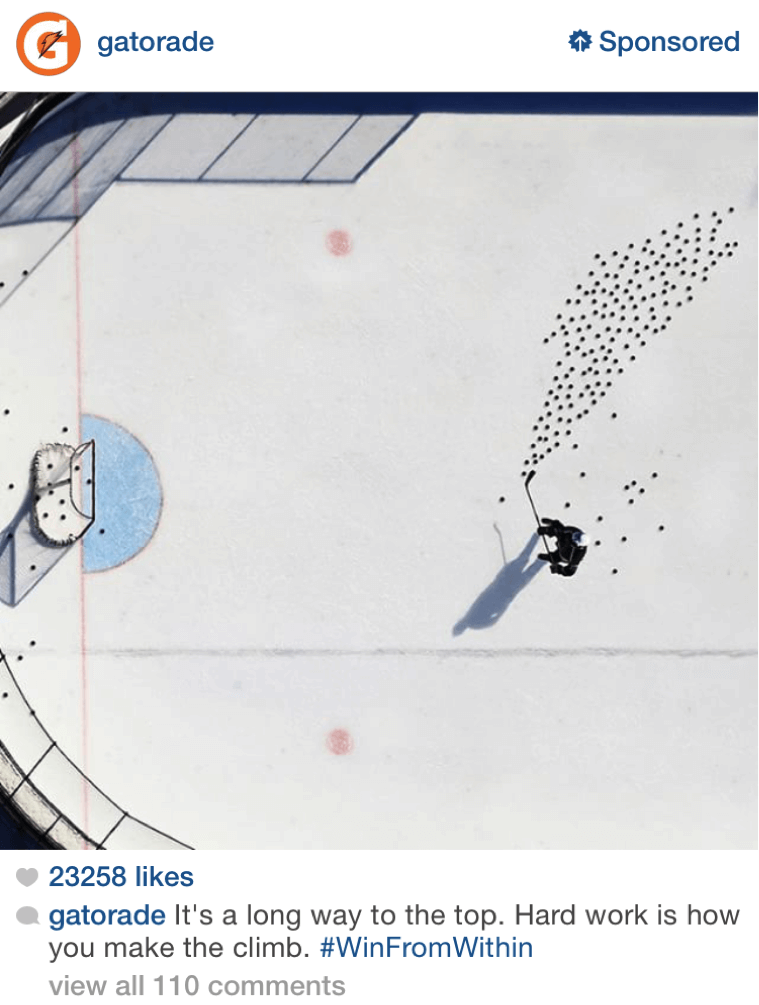 Speaking of online ads Facebook and Google have a combined corporate value of $700 Billion. They make their revenue from advertising. It would be impossible for 2 businesses to create that much value if consumers hated advertising.
I mentioned print earlier but it's worth mentioning that print ads are often very well like and done with an amazing amount of creativity.
As is poster art. If you missed MoMA's exhibition of poster art from Toulouse-Lautrec you missed a great show. I brought our entire company there to view it. Advertising has a long and storied history with great artists and great art.
One last but important thing to mention – good advertising works. Dos Equis sales are up 20-30% since Most Interesting Man campaign launched. Air Jordan became the best selling brand of basketball shoes in history still earning Nike over $2B a year in sales. Progressive's revenue from premiums has grown over $2B in the last 3 years.
It's definitely true that digital ads need to be improved but if we go back to the immortal words of Howard Gossage we can find that aligning people's interests and intent with the advertisements we show them is the key to successful advertising in any age, but none so important as it is today. We must remember that consumers are online to search, to read, to view and to share – they are not online to see ads. Respecting why people love the web and making our ads interesting in this context is the same formula that all other mediums have used to be ad supported. Our future will be no different, less there not be any future at all.