Real-time Relevance Matters on Cyber Monday
Digital ads specifically messaging to Cyber Monday greatly outperformed ads that did not mention it.
From its early incarnation by Shop.org, Cyber Monday has turned into an online holiday shopping benchmark. At Yieldbot we decided to take a look across our retail advertiser base consisting of some of the largest brands and retailers in the world to see how advertisers that took advantage of this 24-hour period fared compared to those that did not modify their messaging specifically for Cyber Monday.
Our dataset includes almost a dozen retailers running millions of impressions and receiving
over ten thousand clicks and hundreds of conversions during Cyber Monday on the Yieldbot platform. We compared this same dataset of advertisers to last Tuesday that we picked because it was far enough away from Thanksgiving Day and Black Friday behavior that could skew the data but close enough to Cyber Monday for data consistency.
The results show that overall there was heightened consumer purchase intent on Cyber Monday. However, marketers that took advantage of the contextual real-time relevance of the day fared significantly better.
CTR on ads without Cyber Monday messaging increased 12%
CTR on ads with Cyber Monday messaging increased 43%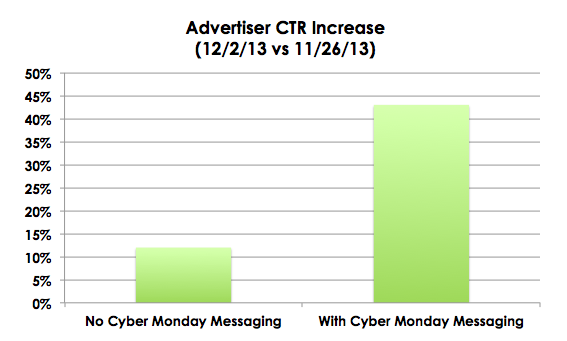 For the more important conversion rate the performance difference was striking.
Conversion Rate on ads without Cyber Monday messaging increased 15%
Conversion Rate on ads with Cyber Monday messaging increased 225%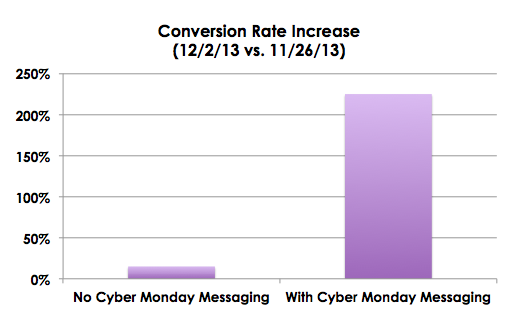 Conclusion: Being able to adjust messaging to real-time context is a marketing practice that
demands more attention. Advertisers and Marketers that do this will increasingly come out on top in the hyper-competitive fight for consumer attention and action.