Native Text
Yieldbot's Native Text ads match your message to the mindset of consumers browsing premium sites. Designed to match the look and feel of the publisher pages, these highly relevant ads yield far greater performance — up to 4x better than standard display ads!
YouTube Extended Reach
Seamlessly extend the life and performance of existing YouTube pre-roll video content within the premium Yieldbot marketplace. A companion banner runs with each video increasing opportunities for engagement and allowing for multiple calls-to-action.
Outstream Video
Customize start and end screen offers that bookend a mobile-first in-content video experience. Outstream VIdeo autoplays while muted for an engagement-driven ad experience that compliments a natural user experience.
Outstream Overlay
Motivate shopper behavior with simultaneous brand, retailer, and product messaging. Customize the look, placement, and timing of in-video message overlays that drive consumers to branded experience where they can take further action.
Branded Pharma
Utilize your pre-approved pharma messaging in Yieldbot's premium marketplace that uses first-party data targeting – not cookies. Yieldbot's pharma creative units are ISI compliant and allow for a seamless transition of your pre-approved creative from search to native text.
Native Cards
Native Cards combine your visual assets with proven-effective native text ads in the form of digital cards. Achieve optimal performance across KPIs by pairing these slick ad units with Yieldbot's powerful intent targeting and optimization technology.
Click-To-Pin
Click-to-Pin ads display your pinnable content all across Yieldbot's premium publisher network. Get your message in front of the highly-enaged Pinterest community through the combined power of text, display, and social marketing.
Click-To-Calendar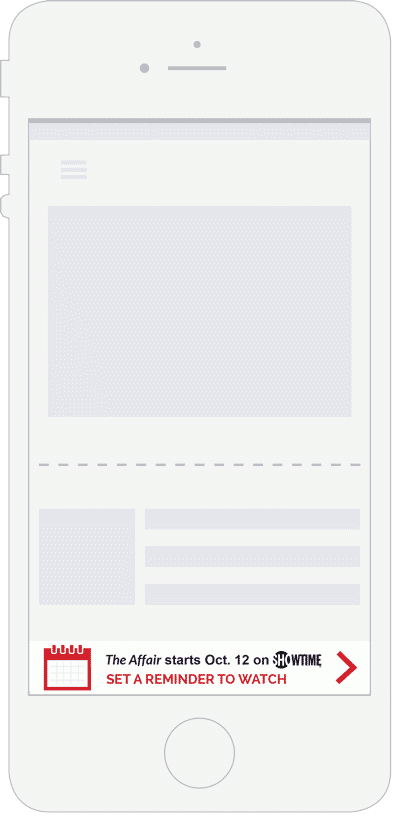 Stay top of mind with quality consumers! Yieldbot's Click to Calendar ad units allow users to save details about your products or events to their mobile calendars – and set reminders – with a simple click.